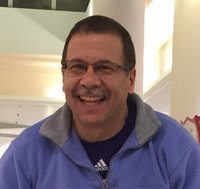 Brian Joseph Day
Brian J "Pops" Day, of Bangor, PA passed away suddenly on Wednesday, April 11, 2018. He was 53.

He was born December 25, 1964 in Plainfield, NJ to Martin and Joan Day.

Brian graduated from Hillsborough High School in 1984. He attended DeVry University and achieved a B.S. from Western Governors University. He worked for Sharp Electronics for the past 20 years.
Brian was a loving and hardworking husband and father who always put his family first. He loved supporting his children in all of their activities including American Ninja Warrior competitions and dance showcases. Brian enjoyed watching and playing baseball. He was a die-hard Yankees fan. He coached his son Zachary's baseball team for many years. Brian loved extra-large Dairy Queen Blizzards, sometimes indulging in two. He will always be remembered for his ability to make everyone in a room laugh uncontrollably and for having a smile that was contagious to all.

He is survived by his loving wife Wendy of 29 years; daughter Alicia and son Zachary both at home; mother Joan Day of Hillsborough; three brothers Daniel and his wife Jill of Lancaster, PA, Kevin and his wife Melissa of Ponte Vedra, FL, and Shannon and his wife Vilma of Bridgewater, NJ., his in-laws Harry & DorisKreis of Bangor, PA, Deb & Art Brown of Gillette, NJ, Harold & Ailian Kreis of Watchung, NJ and Doug & Kelly Kreis of Greenbrook, NJ. He is also survived by 11 nieces and nephews and two great-nephews. He was predeceased by his father Martin in 2015.
Visitation will be held on Monday, April 16th from noon to 2:30pm at Wilson Memorial Union Church, 7 Valley Road, Watchung, NJ followed by a Funeral Service at 3:00pm.