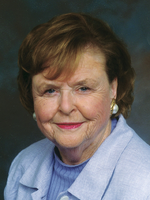 Elizabeth "Betty" Kiser
Born Elizabeth Joyce Chaplain, Betty Kiser went home to be with her Savior on April 3, 2018. A native of Brooklyn, NY, she graduated from Morristown High School and Connecticut College and lived her entire adult life in the Mendhams.
One of the area's most trusted and beloved Realtors, Betty often joked that she had sold every house in Mendham during the 40+ years she worked in real estate; in fact, she worked in the Mendham office of Coldwell Banker right up until the time she became ill last fall.
But the thing she would want to be remembered for was her faith in the Lord Jesus Christ, which anchored her and allowed her to remain strong when the things of this life did not go according to plan. In addition, she support many missionaries and charities, especially the Mendham-based Beyond the Walls, which was very dear to her heart.
She was a long-time, devoted and enthusiastic member of the Rotary Club of the Mendhams and a charter member of Mendham Hills Community Church. She also attended Long Hill Chapel in Chatham for many years.
Betty was predeceased by her husband, George F. Kiser. She leaves her sister, Ellen Baumann; son, Frank Kiser; daughter and son-in-law, Ellen and Tad Gordon; and three grandchildren, Teddy, Sally, and Andy Gordon. She was also very close to her three nieces, Betsy Ahl, Penny Smith, and Martha Koppin and her nephew, Bill Baumann.
A memorial service will be held on Friday, April 13, at 10:00 a.m. at Mendham Hills Community Church, 480 Route 24, Chester, NJ.
In lieu of flowers, the family requests donations to Beyond the Walls, which will be used to build houses in Betty's honor for deserving families living in the Guatemala City garbage dump community. To donate, visit beyond-the-walls.org/campaign and select Build a House for Betty.