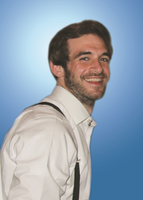 Brian M Cutalo
Brian M Cutalo passed away on Jan 23, 2018 at home in Los Angeles, CA. He was 25.
Born in Summit, NJ he lived in Union and Chester, NJ before moving to California in 2013.
Brian was a 2010 graduate of Mendham High School where he was a varsity athlete on both baseball and football teams.
He was most recently employed by 1 Method Center in Los Angeles, CA where he was a technician who provided support services for the residents.
Brian had many interests in life including sports, travel, meeting new people and music to name a few, but his true passion was his creative writing. His portfolio contains a varied collection of poetry, short stories, musical lyrics and two completed screenplays. It is our hope to keep Brian's dream and spirit alive by publishing some of his work for all to see.
Brian had an uncanny ability to develop and maintain life -long relationships. He was a compassionate, loving soul who touched people's lives in ways that will never be forgotten.
His family will remember him as a loving son, brother, nephew and cousin who was smart, hilarious, handsome, passionate, loving, adventurous, talented and one who possessed an abundance of strength and courage beyond compare.
He is survived by his parents Mark Cutalo and Anna Sansone Cutalo, brother Nick Cutalo and his wife Gina and sister Carlie Cutalo in addition to many aunts, uncles and cousins. Brian is predeceased by his grandparents and great grandparents.
A Funeral Mass will be held on Wednesday Jan 31, 2018 at 10am at St. Joseph Church, Main St. Mendham. Entombment will be private in Holy Rood Cemetery, Morris Township. For those desiring, donations to, www.penfaulkner.org/support, in his memory, would be appreciated.