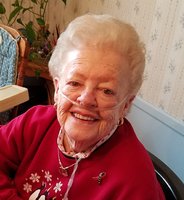 Elizabeth "Betsy" R. Skillman
Gladstone - Elizabeth R. "Betsy" Skillman passed away on January 11, 2018 after a short illness. She was 90.
Born in Newark, she was a resident of Gladstone for over 70 years.
Mrs. Skillman was a long-time postal clerk for the Gladstone Post Office, retiring after 30 years of service.
Betsy was an avid Yankees fan and soap opera enthusiast. She had many friends in town over the years, and was an inspiration to all. Betsy enjoyed the beach and playing slots, but especially loved spending time with her family.
Survivors include her son Thomas Jr., two daughters, Linda DeBisco and Patricia O'Donnell, five grandchildren, and one great granddaughter.
Arrangements are by the Bailey Funeral Home, 176 Main Street, Peapack, NJ 07977 (908) 234-0590 www.baileyfuneralhomes.com
Visitation will be at the funeral home on Monday, January 15, 2018 from 4-7 PM. A Celebration of Life service will take place at the funeral home on Tuesday, January 16, 2018 at 11:00 AM. Interment will follow at the Peapack Union Cemetery.