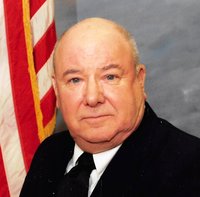 Charles Gordon Dickinson
Gladstone - Charles Gordon Dickinson passed away on Monday, January 8, 2018 at Morristown Medical Center after a short illness. He was 90.
Born to the late John L. and Elizabeth (Dunne) Dickinson in Gladstone, he was a lifelong resident of Gladstone, living in the family home that he built.
Mr. Dickinson was a carpenter, working for the Carpenter's Union Local 455 in Somerville.
He served as a corporal in the United States Army from 1946-1947. He was a longtime member of the Peapack Gladstone First Aid Squad and the Peapack Gladstone Fire Department.
Mr, Dickinson was a volunteer for the VNA of Somerset County, helping with the rummage sale in Far Hills.
He enjoyed reading about military history, and was a sports enthusiast as a Giants and Mets fan.
Survivors include his wife of 66 years, the former Lois Estler, and two daughters, Diana Vish and her husband Keith, and Sally Dickinson.
Arrangements are by the Bailey Funeral Home, 176 Main Street, Peapack, NJ 07977 (908) 234-0590.
Visitation will be at the funeral home on Friday, January 12, 2018 from 2-4 and 6-8 PM. Firemans' Services will be at 7:00 PM. A Mass of Christian Burial will be celebrated at St. Elizabeth's R. C. Church, 34 Peapack Road in Far Hills, NJ 07931 on Saturday, January 13, 2018 at 9:30 AM. Everyone is asked to meet directly at the church. Entombment will follow at Holy Cross Cemetery in Basking Ridge.
In lieu of flowers, donations are requested in his memory to The VNA of Somerset County, 200 Mt. Airy Road, Basking Ridge, NJ 07920 or to St. Hubert's Animal Welfare Center, PO Box 159, Madison, NJ 07940