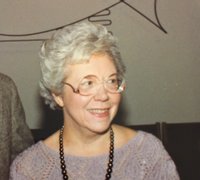 Gloria Lang
Mendham Twp. – Gloria S. Lang passed away at her daughter's home in Middleboro Mass. On Sunday, November 12, 2017 after a short illness. She was 92.
Born in the Bronx NY to the late Frederick D. and Meta M. (Hartman) Schaefer, she was a longtime resident of the Brookside section of Mendham Township.
Mrs. Lang was an assistant librarian for Delbarton School, retiring in 1987 after 20 years of service.
She was a charter member of the Grace Lutheran Church in Mendham, a member of the Brookside Evening Guild, the Brookside Women's Club, and the Brookside Garden Club. She enjoyed international travel, gardening, baking, and genealogy research.
Mrs. Lang was predeceased by her husband of 59 years, Adolph "Otto" Lang (2006) and a sister Enola F. Johnson (2002).
Survivors include her son Brian Lang, her daughter Sandra Hornbeck, four grandchildren; Gabriella Hornbeck, Hannah Lang, Brian John Lang, and Katie Lang-Brown, and several nephews.
Arrangements are by the Bailey Funeral Home, 8 Hilltop Road, Mendham, NJ 07945 (973) 543-4720 www.baileyfuneralhomes.com
Visitation will be at the funeral home on Friday, November 17, 2017 from 10-11 AM. Funeral services will be at the funeral home on Friday at 11:00 AM with the Rev. Carol Peterson of the Grace Lutheran Church officiating. Interment will follow at Hilltop Cemetery in Mendham immediately following the funeral service.
In lieu of flowers, donations in her memory are requested by the family to the Alzheimer's Association, at www.alzheimers.org. Envelopes will be available at the funeral home.