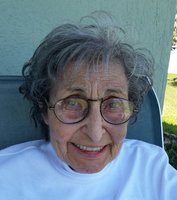 Therese C. Capuano
Bernards Twp. – Therese C. Capuano passed away on Wednesday, November 8, 2017 at Sunrise of Basking Ridge. She was 89.
Born in Brooklyn to the late Sandolo and Victoria Gammello, she is predeceased by her husband, Vincent, of 62 years. They were residents of Bernards Twp. for almost 20 years and previously lived in Mendham for 25 years. She and Vincent were parishioners of St. Joseph's R. C. Church in Mendham until their passings.
Terry worked as a secretary for the NJ Conservation Foundation, retiring in 1995. She enjoyed being a member of the Mendham Garden Club and bowling on the ladies' league at the Mendham Past Time Club.
Survivors include two sons, Matthew and Vincent Capuano, daughter Sandla Steinkopf; brother Eugene Gamell, three sisters, Marie and Victoria Gammello and Joan Julianelli; five grandchildren, Dana Campbell, Damien Capuano, Amanda Capuano, Robert Steinkopf Jr., and Sophia Ellis; and three great grandchildren.
Arrangements are by the Bailey Funeral Home, 8 Hilltop Road, Mendham, NJ 07945 (973) 543-4720www.baileyfuneralhomes.com
Visitation will be at the funeral home on Monday, Nov. 13, 2017 from 4:00 – 8:00 PM. A Mass of Christian Burial will be held Tuesday, Nov. 14, 2017 at 10:30 AM, at St. Joseph's R. C. Church, West Main Street, Mendham, NJ. Internment will immediately follow the Mass at Mendham Hilltop Cemetery.
In lieu of flowers, the family requests donations be made in Therese's name to the Liberty Corner First Aid Squad, 740 Martinsville Road, Liberty Corner, NJ 07938.