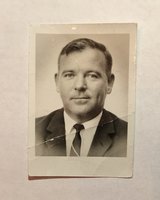 Eugene Mahoney
Eugene J. Mahoney, Sr. passed away peacefully at home on November 5, 2017. He was 88.
Born in West Orange, NJ to Francis and Mary (nee Cooney) Mahoney. Gene was a lifelong New Jersey resident, living in West Orange, Summit and Florham Park before settling in Mendham 45 years ago. He is predeceased by four siblings Joseph, Walter, Vincent and his twin sister Regina Gately.
Gene is survived by his wife of 60 years, Angela (nee Gleeson) Mahoney, his children and their spouses: Kathleen Mahoney and her husband Michael Barron of Avon, CO, Maureen Mahoney and her husband Paul Madarasz of Mendham, NJ, Eugene J. Mahoney Jr. and his wife Emily of Pittsburgh, PA, and Jack Mahoney and his wife Anina of New York, NY. He is also survived by his grandchildren Benjamin Barron, Melody, Emma, Tess and Eugenie Madarasz, Valerie and her husband Edward Kraff, Ian and Elisabeth Mahoney, and Catherine Mahoney.
His family will remember "Sammie" for his perpetual optimism, unique expressions, as well as his love of "the animals."
In his early life, Eugene proudly followed in the footsteps of his older brothers in the military by serving in the National Guard for ten years. The family's years of military service inspired his lifelong interest in history, geography and current events.
Eugene had a successful 40-year career in the textiles industry as Vice President of Sales and Marketing for Gerber Childrenswear Inc, in New York, NY. During his tenure, he made his mark travelling the country and co-creating the "onesie" for infants. As man of the community, Eugene could always be found among the early morning golfers at Roxiticus Golf Club and Newton Country Club or on the sidelines of a Mendham High School football game running the chains.
Eugene was fortified by his faith throughout his life and his spirituality gave him perpetual optimism.
Visitation will be held at Bailey Funeral Home, 8 Hilltop Road, Mendham, NJ on Friday, November 10th from 5-8pm. Funeral Mass will be on Saturday, November 11th at Noon, St. Joseph Church, Mendham NJ. In lieu of flowers the family requests donations to
The Gagnon Cardiovascular Center at Morristown Medical Center or The Shaw Cancer Center of Edwards, CO.