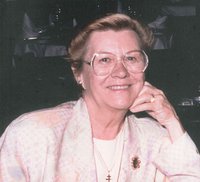 Clara Kerian
Clara E. Kerian
July 26, 1926 - October 1, 2017
Clara E. Kerian, 91, of Bernardsville, NJ, died peacefully at her home on the morning of October 1st. Born in Detroit, July 26, 1926, she was the daughter of Joseph and Mary (McLeod) Roberts.
A 1945 graduate of Farmington High School in Michigan, she worked in retail and sales, retiring from Martindale-Hubbell, Inc. of New Jersey.
In 1971, Clara married Walter Kerian, her loving companion of 42 years. He preceded her in death in 2013.
Surviving are her sister, Audrey Padot of Monroe, MI; her children, Mary Stoops (Tom) of Pinconning, MI; Edward Kochanek (Patti) of Tampa, FL; and Audrey Grier (Gene) of Temecula, CA; three grandchildren, five great-grandchildren, two nephews, three nieces, and her beloved cat, Kizzy.
Sincere thanks go to her loving friends and caregivers: Vera McAvoy and family, Donna and Rick Brooten, Mary Sanchez, Terry Ragolia, Hortense Huie, and Carolyn Grant.
Private services will be held 11 AM on Wednesday, October 4th, at Hilltop Cemetery in Mendham, NJ.
Memorials may be sent to St. Jude Children's Research Hospital, St. Hubert's Humane Society of Madison, NJ, or a charity of the donor's choice.